A well made video from the Diocese about Planned Giving that I wanted to share with you, our parish is in it and our great Catechesis of the Good Shepherd program! 
Announcements and Invitations
An Additional Summer Mass Time
Starting Sunday May 23rd, we will be adding a Sunday 1pm Mass for the summer months (as an additional strict "Mask Mass") Our weekend Mass times are pretty much at 50% capacity or close, (though the 8am is still sparse) so I'm hoping that adding another time will encourage more people to come back. I will not be posting the 1pm Mass time on the website or parish sign, it is word of mouth only. I especially invite those who have not yet returned to consider coming to this Mass time!
Adoration, Praise and Worship
Sunday May 2nd, 6:30-8pm Adoration of the Blessed Sacrament and Praise and Worship in the Church.
High School Weekend Retreat
I'll be running a high school retreat the weekend of July 23-25- save the date!
Men's Bible Study
Thursday May 6th 7pm- Men's Bible Study in the basement of the Faith Formation Building. They meet every other Thursday. All men are invited! Contact Daryl at darylmeyette@yahoo.com with any questions
Bible Study: Book of James
Pearls for Wise Living:  Starting Tuesday evening on April 27th, at 6:00 pm, in the Parish Hall, we will be holding the Bible Study – James – Pearls for Wise Living.  This is a 10 part series on the book of James by Jeff Cavins.  This Tuesday, April 27th will be the introduction and we have 11 free books on a first come, first serve basis.  
The classes and topics are:                
Thurs.  April 29th – Wisdom for Tough Times               
Tuesday, May 4th – Wisdom and Pure Religion               
Tuesday, May 11th – Wisdom and the Law of Love               
Tuesday, May 18th – Faith Works with Wisdom               
Tuesday, May 25th – Wisdom is Known through Speech               
Tuesday, June 1st – Wisdom – False and True               
Tuesday, June 8th – Wisdom in Relationships               
Tuesday, June 15th – A Wise Perspective for Living               
Tuesday, June 22nd – The Wisdom of Patience               
Tuesday, June 29th – The Wisdom of Confession and Prayer
Contact Josie at jsife@hotmail.com with questions
Video Series: the Chosen
This summer on Wednesday evenings from June 2nd through July 21st, at 8:00 p.m., we will be showing the 1st season of the 8 part series "The Chosen" in the Parish Hall. This is an amazing mini series about the life of Christ through the eyes of his Apostles. Bring your own lawn chair, cushy floor mat or just sit in one of the chairs in the Hall. We will provide popcorn and soda, which go hand and hand with a good movie. Hope to see you there.Contact Josie at jsife@hotmail.com with questionsWatch a preview here: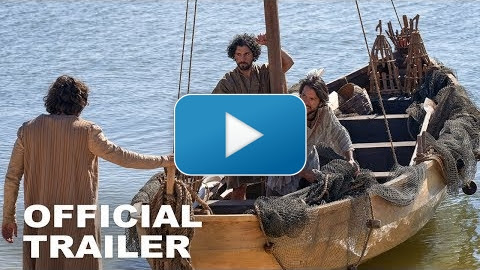 ---
My Official Reassignment Letter to St. Joseph's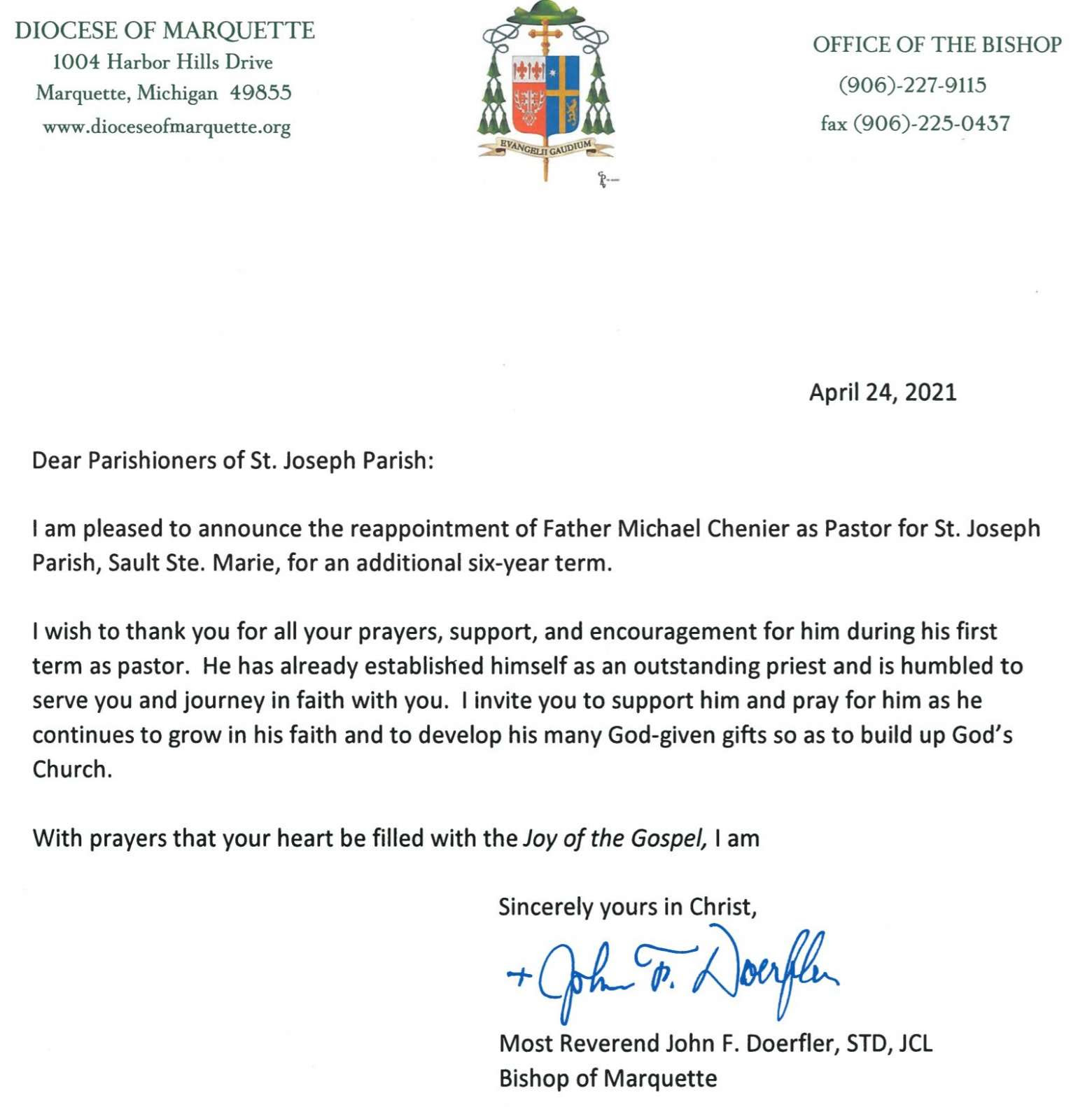 Gifts of the Holy Spirit: WISDOM
The gift of Wisdom is my favorite Gift of the Holy Spirt – for mainly two reasons. First, I can see the fruit of this gift in my own life, and second, because the saint name I chose at my confirmation was St. Sophia, the patron saint of wisdom. I want to share with you a brief summary of her story to illustrate how she received her patronage.St. Sophia was a widow in Rome who had three daughters, Faith, Hope, and Charity. She was committed to raising them in the faith and instructed them frequently in the scriptures. During the persecution of Christians that took place under the emperor Hadrian, she was forced to watch her daughters as they faced their execution. St. Sophia watched as each of her daughters were given the option to either renounce their faith, or to be tortured. She was able to use the wisdom God had filled her with and encouraged her daughters not to renounce God as they suffered at the hands of their torturers and were all eventually killed as martyrs for the faith. Soon after, St. Sophia was also killed by the emperor as a martyr, refusing to give into the pressures to renounce God.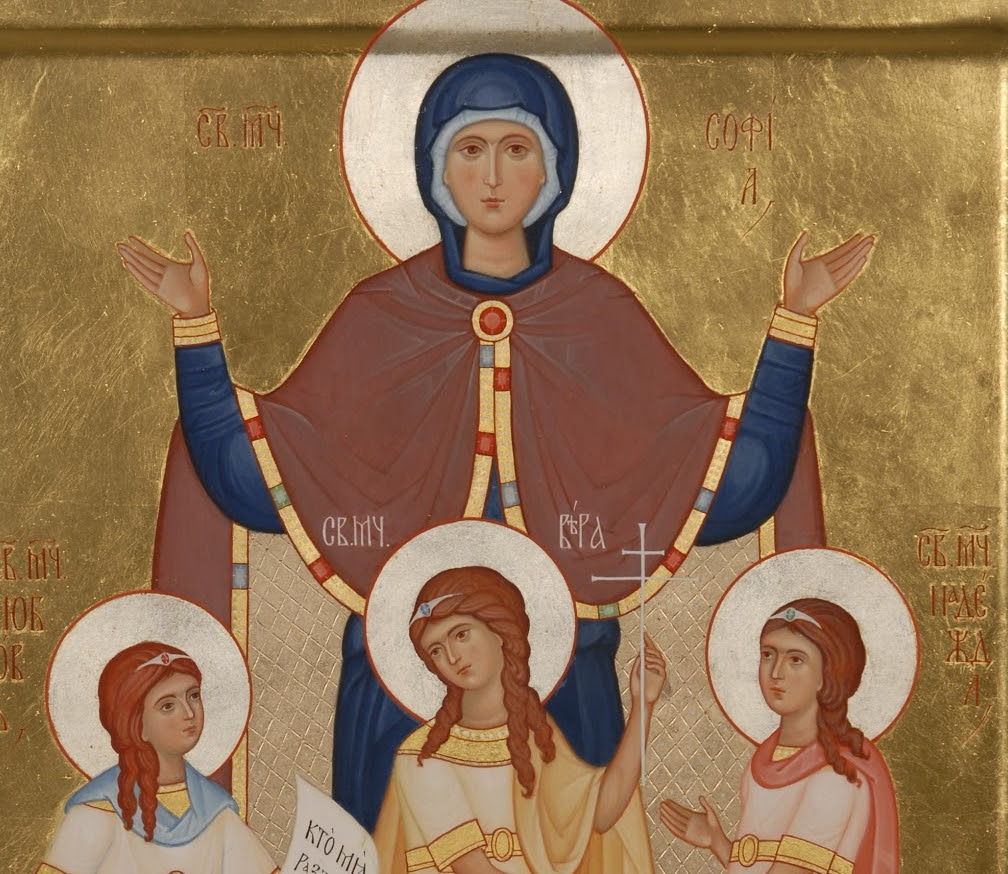 When I first read St. Sophia's story, it spoke to me and put a fire in my heart to want to be like her. The gift of wisdom is the ability to uphold truth and justice by being able to discerns God's will in all things. It helps us to trust in Him completely and being able to prayerful listen to and accept the plan He has for us.I was able to see this lived out in the story of St. Sophia's life and eventual death. She was able to see God's plan of uniting her daughters to Him through their martyrdom, and encouraged them to trust in their faith and not let go of their beliefs. She trusted in God's plan for her life and knew that He was present with her in all of those trials.To me, it was an inspiring story of learning how to speak the truth, no matter the cost. It showed me the cost and sacrifice sometimes necessary to listen and follow God's will for my life. Her example encourages me to seek out her intercession in my prayers especially when faced with difficult decisions.Praying for wisdom, not only from the Holy Spirit, but also through St. Sophia's intercession, has helped me learn how to hear the voice of God in my own life. When we go to prayer, sometimes our minds can be cluttered and we might not always know how to hear the voice of God in the midst of it all. The spiritual gift of wisdom helps us to hear His voice and trust in it. How can we ask God to grow in that gift and exercise it in our prayer life?One great way to grow in learning how to discern the voice of God in our lives is by journaling. Journaling, especially with scripture, can help you to learn to hear the voice of God by contemplating the very words He gave us. A great way to do this is by practicing Lectio Divina, where you prayerfully consider a short scripture passage. Lectio Divina is done by reading the passage slowly a few times and trying to find what word or phrase is really speaking to you from that. Then you spend time praying and asking God why that is speaking to you as you meditate and contemplate what that means in your own life. Journaling through Lectio Divina can not only help you stay focused in prayer, but can help you start to recognize the voice of God as you reread previous journal entries and see how prayers may have been answered or the way God guides you. The gift of wisdom will help to guide your prayers and help you to live those truths out in your everyday life.              
Prayer for an increase in Wisdom:
O Lord Jesus Christ, who, before ascending into heaven, did promise to send the Holy Spirit to finish Your work in the souls of Your Apostles and Disciples, dare to grant the same Holy Spirit to me, that He may perfect in my soul the work of Your grace and Your love. Grant me the spirit of Wisdom that I may despise the perishable things of this world and aspire only after the things that are eternal. Amen.
---
Hello, my name is Bailey Yazel. I used to be an LSSU student, but now live in the Sault with my husband, Ian, and work for the County Prosecutor. Know of my prayers for you this Easter Season.
---